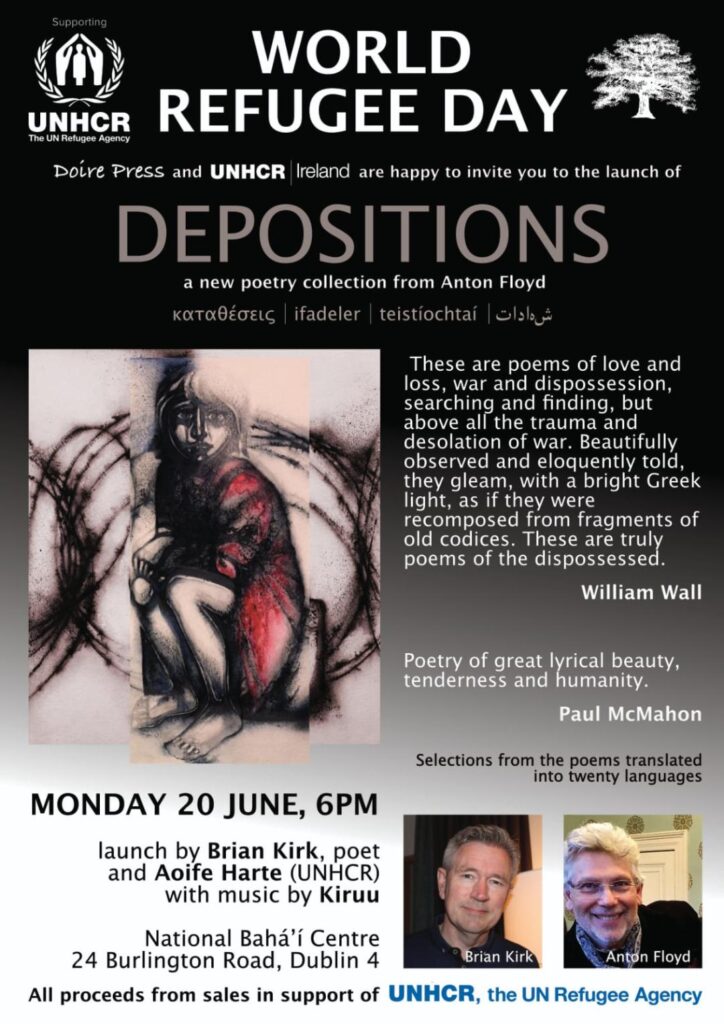 I was honoured to be asked to launch Anton Floyd's new poetry collection 'Depositions' on World Refugee Day 20th June 2022. Anton is a fine poet and good friend, and his new collection is an important and impressive achievement, concerned as it is with the traumatic experience of exile and displacement.
The core of the collection consists of 120 tercets borrowing something from the haiku/senryu format, a selection of which has been translated into 20 languages, many by people who have a direct experience of displacement. This short form section seeks to articulate the experiences of asylum seekers at each stage of the experience, the trauma, both in physical as well as psychological terms. There are longer poems at the beginning and end of the collection that meditate on war and the aftermaths of conflict. The final section consists of a group of poems about the current tragic situation in Ukraine.
Two songs also feature in the collection, Love in a Time of War and Peace Will Come, the latter striking a hopeful note at the end of the collection. The music for both songs was composed by Bulgarian maestro, Alex Zografov.
Anton's wife Carole Anne and his son Aodhán, (both artists) designed Anton's first collection Falling into Place (Revival Press) and have now, between them, designed the cover for Depositions. Carole Anne made the painting and Aodhán the layout of the jacket.
The Ukraine crisis has tragically given the collection an added relevance. The founder of The Pharos Arts Foundation in Nicosia, Garo Keheyan, (https://www.pharosartsfoundation.org) has agreed to a Cyprus launch in October 2022 in collaboration with the Irish ambassador there. There'll be a launch in Limerick and one in Cork also. The launch in Dublin is supported by UNHCR – Ireland. The agency will place Depositions on its list of recommended books and all proceeds from sales will support the work of UNHCR – Ireland.
I hope to see you there.