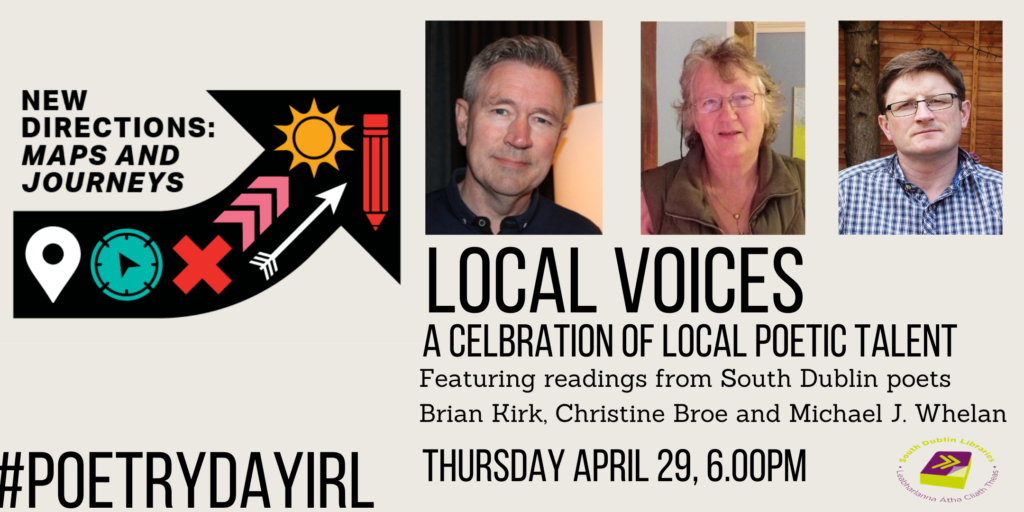 Thursday 29th April 2021 is Poetry Day Ireland and I'm delighted to be hosting an event on behalf of South Dublin Libraries. I'll be reading alongside poets, Michael J. Whelan and Christine Broe and chatting about creativity and poetry in the current climate. Tickets are free but please book them in advance here: https://www.eventbrite.ie/e/poetry-day-ireland-south-dublin-libraries-local-voices-tickets-148784401149?aff=ebdsoporgprofile
Michael J. Whelan
Michael J. Whelan is a historian and soldier-poet living in Tallaght, South Dublin, Ireland. His debut collection Peacekeeper was published in 2016 and his second collection Rules of Engagement in 2019 both Doire Press. For more information:
http://www.doirepress.com/writers/m_z/michael_whelan/ &  www.michaeljwhelan.wordpress.com
Christine Broe
Christine Broe has published two books of poetry Solas Sólás and Lifting Light. She is a member of Rathmines Writers Group. She won the Trócaire Poetry Prize in 2019 with her poem 'The Kerchief' and was nominated for the An Post Poem of the Year 2019 with the same poem. Her film, Bog Meditation, about her sculpture and poetry won an award in Hollywood independent film festival and is to be shown at Bali film festival later this year. 
Website www.christinebroe.com
Brian Kirk
Brian Kirk is a poet and writer from Dublin, Ireland. His first poetry collection After The Fall was published by Salmon Poetry in 2017. His poem "Birthday" won the Listowel Writers' Week Irish Poem of the Year at the An Post Irish Book Awards 2018. He was awarded a bursary from the Arts Council of Ireland in 2020 to write and film a sequence of formal poems on the Covid 19 pandemic. His short fiction chapbook It's Not Me, It's You won the Southword Fiction Chapbook competition and was published in 2019 by Southword Editions. He blogs at www.briankirkwriter.com.