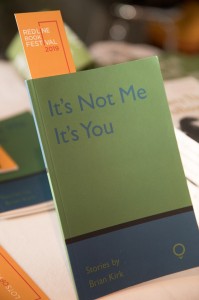 I didn't publish quite as much in 2019 as in recent years, but there were some great moments along the way. The highlight was of course the publication of my short fiction chapbook It's Not Me, It's You at the Cork International Short Story Festival in September. This is my third book publication in the past four years following 2015's children's novel The Rising Son and 2017's poetry collection After The Fall (Salmon Poetry).
My main aim in terms of publication for 2020 is to find a publisher for my full short story collection What Do You Actually Want?. I was lucky enough to be mentored in 2019 by Dermot Bolger as I worked on putting the collection together.
In terms of new writing in 2020, I'm determined to bring at least one of two novel projects to fruition before the end of the year. I also got back into poetry writing in 2019 and hope to continue to work towards my second poetry collection in 2020 by continuing to write plenty of new poems and adding to my poetry publication credits.
Over the year I read some excellent novels, stories and poetry. I could name loads but I'll settle for three only, one from each genre: Anna Burns' novel Milkman, Nicole Flattery's short story collection Show Them A Good Time and Ciaran O'Rourke's poetry collection The Buried Breath. There were plenty of other wonderful books that I read during the year but these three stood out for me in terms of the dynamic coming together of structure, language and ideas.
Here's how my writing year went from a publication point of view:
My poem How You Lived Then was published in Issue 25 of Boyne Berries.
My short fiction chapbook, It's Not Me, It's You was the winner of the inaugural Southword Fiction Chapbook Competition and was published in September 2019 by Southword Editions.
I performed my Poem Evidence of Emotion on Poetry Day Ireland along with twelve other poets as part of an event responding to the exhibition "An Altered Land" by David Fox at Olivier Cornet Gallery in Great Denmark Street.
In January I was longlisted for the Cambridge Short Story competition.
My poem Capsized appeared in Flare Issue 12 Summer 2019.
My short poem Komorebi appeard in Issue 29 of Shot Glass Journal in September 2019.
My poem Bully was published in Issue 26 of Boyne Berries in September 2019.
My poem Deepfake was published in Abridged Kassandra Issue in September 2019.
My short story Urgent and Important was published in the Honest Ulsterman in October 2019.
My four poem sequence Fear and Trembling was published in Live Encounters Poetry in December 2019.
My poem Googling My Parents was published in Poetry Ireland Review Issue 129 and was Poem of the Week at RTE Media in December 2019.
My short story Blood was accepted for publication by The Blue Nib and will be published in Issue 40 in January 2020.
I'm looking forward to taking on new challenges in 2020 and reading and writing new work. It's always worth saying also, that whatever success we achieve in writing – however you define success – it is always accompanied by a far greater amount of rejection and failure. I like to think a committed writer sees these setbacks as part of the overall learning and improving process. Some weeks are better than others for sure…
Best wishes to all for a happy, peaceful and productive 2020!
Brian