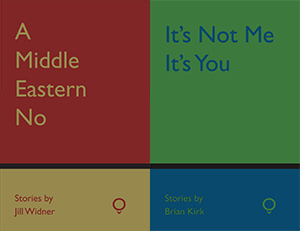 Last Thursday, 26th October 2019, Southword Editions published their first two Short Fiction Chapbooks: A Middle Eastern No by Jill Widner and It's Not Me, It's You by Brian Kirk (that's me!).
Both publications are now available from Munster Literature Centre and Amazon. I hope both books gain many new readers and also some reviews over the coming weeks and months. I'm very proud of the three stories that appear in my chapbook and want to thank Southword Editions for doing such a great job in publishing them. I'd also like to thank the editors of the magazines and journals who published these stories originally.  That New Girl was published by Steve Moran, Willesden Herald New Short Stories in November 2018; The Shawl was published by Jen Matthews in Long Story Short Literary Journal in March 2013; The Invitation was published by Valerie Sirr in Issue 7 of The Lonely Crowd in June 2017.
I'd also like to acknowledge the support I received from South Dublin County Council Arts Office by way of a bursary in 2017 when I was writing these stories. My final and particular thanks go to John Murphy who has been a first reader and a vital critical eye for me for many years and t0 Dermot Bolger who mentored me during 2018 and 2019 as I prepared my full collection of short stories for which I am now actively seeking a publisher.