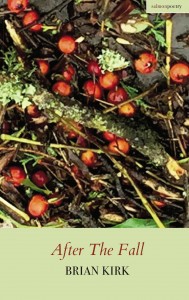 2017 was a pretty good year for me from a writing point of view. This is how it panned out in terms of publications and awards during the year: three short stories and thirteen poems published in all, and also a first memoir piece published in The Incubator. The highlight of the year for me was undoubtedly the publication of my first poetry collection After The Fall by Salmon Poetry in November. This was the culmination of ten years writing, revising and publishing and I'm delighted to see the collection in print.
This is how the year went, month by month:
I did quite a few readings during the second half of the year: Staccato (run by the ever brilliant Tanya Farrelly and David Butler) in September along with my fellow Hibernian poet Amanda Bell, At The Edge in Cavan (run by the excellent Kate Ennals) in October reading alongside Mairéad Donnellan. I took part in a Red Line Book Festival panel event on first poetry collections in October which was chaired by Nessa O'Mahony and featured myself, Eamonn Lynskey and Phil Lynch. I took part in a lunch time reading and Q and A at the Dublin Book Festival in November. Myself, Amanda Bell and Emma McKervey fielded questions posed by Lisa Frank of Doire Press. After The Fall was launched in the Irish Writers Centre on 9th November and later that month I was featured poet at Ó Bhéal in Cork. In many ways this was the high point of the year for me. If you have a half hour to spare you can listen to my reading here.
I was particularly pleased to have my short story The Invitation published in The Lonely Crowd Issue 7 (edited by Valerie Sirr) in the summer. This is a great journal with quality poetry and stories in every issue. I spent some time in the second half of the year working on short stories again and my aim, if I have one, is to compile a strong collection of short stories in 2018. I was pleased to receive a bursary from South Dublin County Council in 2017 to help me do just this. Already I have stories forthcoming in 2018 with online journals Fictive Dream and Cold Coffee Stand.
It was also a great year for fellow Hibernian writers Amanda Bell who published her collection First the Feathers (Doire Press) and Maeve O'Sullivan who published Elsewhere (Alba Publishing)in the two weeks following After The Fall. It was a hectic end to the year but a great one. We will be reading together at Books Upstairs on Sunday 28th January 2018, but more of that anon.
I also did radio interviews / readings from After The Fall in 2017 on Dublin City FM and Dundalk FM and will be talking to Teresa Quinn on Bookline on Liffey Sound FM in Sunday 4th February 2018.
I hope to bring After The Fall to more readers in 2018 and also to write more poems and stories. There's a novel somewhere in the mix there too. I've been writing long enough now to know that for every success there are very many failures and rejections. So don't be downhearted. Make new start. Happy new year!
New Year
Unlock the doors and let the east wind sing
between the table legs and upturned chairs.
Let dust unsettle on a belt of air
that binds the living to the rising spring
and stirs the sheets that cover everything.
The books you haven't read are all still there,
the clothes you left behind unworn are where
you left them – let them be, you'll never bring
the past to life again. Ignore the sting
of memory or the urge to say a prayer;
what you are doing should not prompt despair.
Take a deep breath, roll up your sleeves and swing
the hammer at the past and have no fear,
level the ground, make straight, this is New Year.