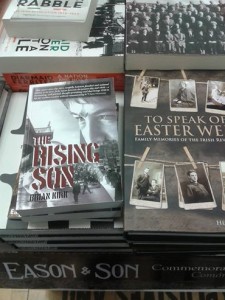 After the drama of February when I found out my publisher was ceasing to trade, the good news is I am going it alone with a new ISBN number (978 1526201492) and printer and supplying bookshops directly myself. It's more work of course, but it means also that I know exactly what's happening with the novel in terms of sales and costs. I was delighted when Eason decided to take the novel a couple of weeks back (huge thanks to my great mate Gavin Lawler of The Irish Fairy Door Company) and I'm still getting used to that weird sensation on walking into their stores and seeing my book there. I'm hoping to reach as wide an audience as possible in this year of the centenary of the Rising so I'm delighted to say that Argosy Distributors will take orders for the book from independent book stores also.
I've been doing some school and library visits and have more planned for April and May in Ballyroan, Lucan, Celbridge, Leixlip, Naas and Athy – "far flung places" as the poet said. If you're a school or library you can order copies from IES in Leixlip. I have also set up a dedicated Facebook page for The Rising Son here. If you've read the novel and enjoyed it (or not!) I'd love if you would post a review there. Also, if you come across the book in any far flung places you might post a photo.
Once again I'm amazed by all the support and advice I received in recent weeks and months! It's very much appreciated.