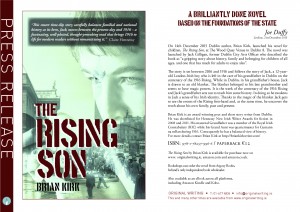 Here's the press release for The Rising Son. I've been getting quite a bit of press coverage in recent times following my appearance on Liveline with Joe Duffy on 21st December 2015. Since then I've done radio interviews with Dundalk FM, Kildare FM and Dublin South FM. You can listen back to the Dublin South FM interview with Fiona Kenny here.
The Echo newspaper gave me a really good half page spread last week and reviews have been coming in also.
Mia, aged 12, reviewed the novel very positively over at Bleach House Library and there are three five star reviews on Amazon. Fellow author James Lawless gave me a big endorsement over at his blog also.
The result of all this positivity is that I now have distribution for the novel via Argosy Books who are Ireland's only independent book wholesaler. So any bookshops out there who may not have The Rising Son in stock, please order it now from Argosy.
For any schools or libraries out there wishing to buy copies you can order them from IES Ltd in Leixlip, Book Haven or The Book Nest in Sligo.
Otherwise, please ask for it at your local book shop, go to Original Writing, Amazon UK or buy a copy here on my site.
I will be doing the first of my library/school visits in February which I'm really looking forward to. If you want me to visit your school or library please contact me through the web site.
Thanks to everyone who has been so supportive so far on this journey through publication. I'm really grateful for all the help and advice I've received. I've learned more in the last two months than I ever wanted to know about sales, marketing and distribution.